Lateral Flow Assay Development & Contract Manufacturing Services
---
Attogene offers lateral flow services that bundles scientific expertise with state-of-the-art facilities, equipment, and materials to perform all or part of the design, develop and manufacturing of lateral flow assays to meet your needs.
Engineering Services are offered with our partnering institutions.  These services include comprehensive reader integration.
Industrial and mechanical design

Electronic equipment and software design

Optical system design

Consumable design

Prototyping through transfer to manufacturing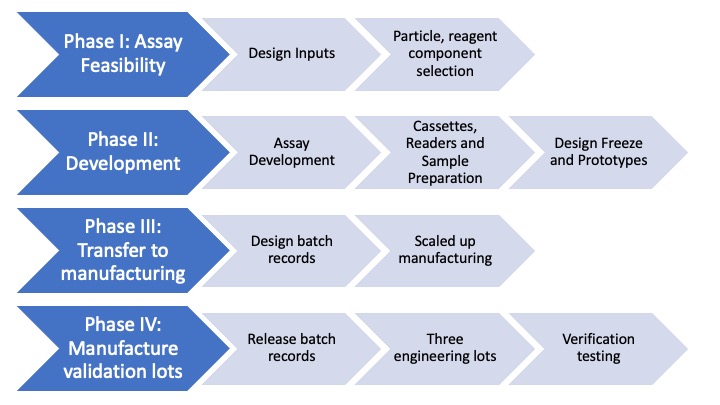 Why partner with Attogene:
Superior performance:

High quality gold reagents offer robust, reproducible assays with high sensitivity visual detection.

Flexibility:

Full contract lateral flow assay development from feasibility to manufacturing.

Scientific rigor:

Decades of combined experience from experts in the field

Bulk manufacturing:

On site manufacturing of colloidal gold reporters.

Equipment and expertise:

Our resident biochemistry experts and on-site commercial-scale automated manufacturing provide unparalleled flexibility from start to finish, helping medical device companies bring new products to market with ease.

Talk with our development team:

Our knowledgeable technical staff is available to help with your specific product, project, and technical questions. We look forward to learning more about what you're doing and how we can help you succeed.
Testimonials
---
"We have worked closely with Lance Ford and others at Attogene on a novel lateral flow test strip R&D project and find them all to be highly intelligent, knowledgeable, skilled, innovative, motivated and cooperative.  Attogene's personnel go the extra mile and really aim to please their customers and collaborators.  They act as true partners with your best interests in mind.  On the business side, I am highly impressed with Attogene's quality and customer service.  In fact, in the early days of the COVID pandemic, I was first attracted to Attogene by the COVID antibody test strip kit that they quickly assembled and marketed to determine exposure to SARS-CoV-2.  I highly recommend Attogene to anyone looking for various types of test strips, ELISAs, PCR, nucleic acid and other types of biological and chemical assays."

-John G. Bruno, Ph.D., Directory of Biotechnology with Nanohmics, Inc.